ICEIN 2011
SESSIONS:
Environmental Fate, Transport, and Transformation
Toxicity
Ecotoxicity
Nanochemistry
Risk Assessment
 Washington Duke Inn, Durham, NC
KEYNOTE SPEAKERS:
James Hutchison, University of Oregon
Robert Tanguay, Oregon State University
Alistair Boxall, University of York
Marie-Noële Croteau, USGS
Frank von der Kammer, University of Vienna
REGISTER:
Early registration deadline is April 15, 2011.
SUBMIT ABSTACT:
ICEIN submission closed.
LOCATION:
Washington Duke Inn, Durham, NC
HOTEL INFORMATION: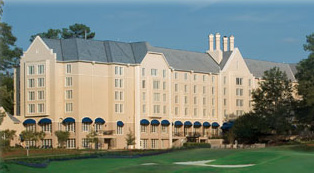 Preferred Hotel:
Washington Duke Inn
3001 Cameron Boulevard
Durham, NC 27705
Phone: 919-490-0999
washingtondukeinn.com
Additional Hotel:
Courtyard Marriott
1815 Front Street
Durham, NC 27705
Phone: 919-309-1500
TRANSPORTATION:
Ike's Taxi and Transportation
919-699-1312
ADDITIONAL INFORMATION:
For additional information contact Cole Matson or for logistics assistance contact Eileen Kramer.
HOSTED BY:

DURHAM, NC:
Durham is included in the NY Times Online list of 41 Places to Go in 2011 - "35. Durham, NC, a downtown turnaround means food worth a trip."  Read more.